The Small Cinema * Sunday (August 2, 2009) * 4:15 p.m.
A Casa do Tom – Mundo, Monde, Mondo /The House of Tom – Mundo, Monde, Mondo, Brazil (BR) 2007, colour, 57 min.


PREMIERE

dir Ana Jobim pro Das Duas sc Diana Vasconcellos, Julia de Abreu ph Ana Jobim, Henderson Royes, Luiz Eduardo Lerina, Maritza Caneca, Luiz Eduardo Lerina mus Antonio Carlos Jobim ed Diana Vasconcellos, A.B.C. dis Biscoito Fino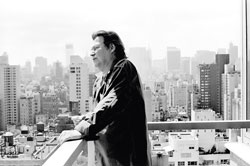 "The House of Tom - Mundo, Monde, Mondo" tells the story of love of Antonio Carlos Jobim with music, family and nature. The documentary, produced and directed by his widow and photographer Ana Jobim, brings never before released images and interviews covering almost twenty years of his day-to-day life in his three most favorite places in the world: New York, Rio de Janeiro and his country house in Brazil. Even the most loyal fan of the maestro might be surprised with the scenes shown, including the birth of a couple of important compositions. One also can see his family environment and encounters with friends.


Ana Jobim
Photographer and cultural producer. She is the founder and director of the music publishing company "Jobim Music and Das Duas", a production company. "The House of Tom – Mundo, Monde, Mondo" is her debut as a movie producer and director.