The castle in Janowiec * Wednesday (August 5, 2009) * 9:00 p.m.
33 Scenes From Life, Poland-Germany (PL-DE) 2008, colour, 95 min.

dir Małgorzata Szumowska pro Pandora Film Produktion, Film Studio STI, Shot Szumowski sc Małgorzata Szumowska ph Michał Englert muz|mus Paweł Mykietyn ed Jacek Drosio cast Julia Jentsch, Peter Gantzler, Maciej Stuhr, Małgorzata Hajewska, Andrzej Hudziak, Iza Kuna, Rafał Maćkowiak, Roman Gancarczyk dis Kino Świat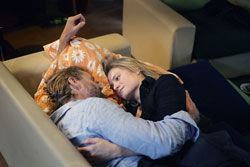 30-years old Julia is a successful photographer. She lives in a wealthy, well educated family. Her husband, Piotr, is an acclaimed composer. Her mother, Basia, is acclaimed author of crime fiction. Father, Jurek, is a filmmaker, documentalist. Suddenly their happy life ends... Basia has cancer diagnose. Jurek is broken down by Basia's disease. Was it not for Adrian, Julia's friend, she would have to stand alone in the face of challenges brought her by life. The time has come for verification of one's point of view, and maybe even for the whole new beginning.

Trailer: see

Małgorzata Szumowska (1973)
Film director and scriptwriter of documentaries and features. In 1998 she graduated from Film School, Lodz (faculty: directing). In 1997 she, as a director, had her documentary debut and in 2000 - feature debut. Laureate of festival prizes. Since 2001 she is a member of European Film Academy.