PGE Cinema * Thursday (August 6, 2009) * 12:00 p.m.
Slepé lásky, Blind Loves, Slovakia (SK), 2008, colour, 77 min.

dir Juraj Lehotský pro Marko Škop, Ján Meliš, František Krähenbiel, Juraj Chlpík, Juraj Lehotský Artileria sc Marek Leščák, Juraj Lehotský ph Juraj Chlpík ed František Krähenbiel cast Peter Kolesár, Iveta Koprdová, Moro Daniel, Monika Brabcová, Jolana Danielová dis Against Gravity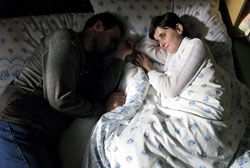 "Blind Loves" is a film about love between blind people. Love can be soft, love can be silly, love can be blind at times... To find one´s place in this world is not an easy thing to do for people with good sight, but how much more difficult it can get for somobedy who is blind? The "view" of blind persons is often pure and essential, and very often witty. It uncovers new dimensions of meaning of happiness.

Trailer: see

Juraj Lehotský (1975)
He studied at the Higher Arts and Crafts School in Bratislava, specialized in photography and documentary film directing at the Academy of Music Arts in Bratislava. He works as documentary film director, director of music videos and advertising spots. "Blind Loves" is his full length debut.